Website Designing
Innovation is our Key
Navigating the boundaries of website design, it is never a one-design-suits-all policy for us and that is why we are the leading Website Designing Service in Delhi, NCR India. People are different, so do tastes and preferences. Similar is the case with businesses and the aligning layouts. We strive to deliver simple yet unique web designs. Here at WS Centre we are backed by a pool of proficient web musketeers and seasoned technology meant to craft exclusive, paramount and innovative web structures for their customers.
Customized Website Design
We create outstanding and customized websites as per your visualization and the business brand needs.
Responsive Website
Be it any device; websites created by us adapt to the size, resolution and configuration and offer a remarkable experience.

Ecommerce Design
Your online store shines through the navigation and interface we render to it, which is empowered by seamless transactions.

UI/UX Design
User Experience and User Interface remain our foremost grounds to prove our efficiency and we excel every time.
Mobile App Design
We strive to design and develop mobile applications that offer an edge over your web presence and bring added information to the users.

Logo Design
The logo of your business is an absolute identity of your business. We design every logo with this primary thought in mind.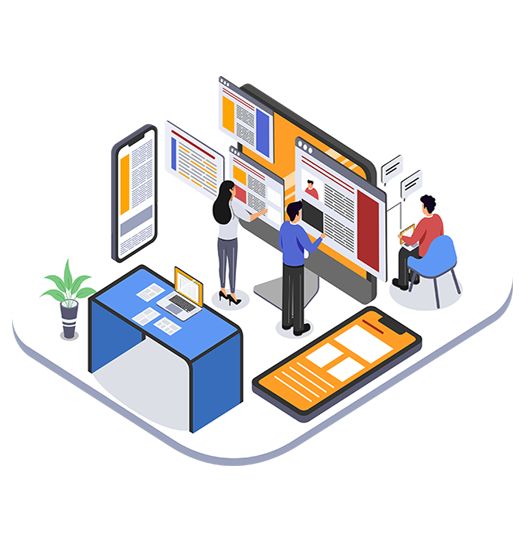 Tailored Website Design Services in Delhi
When it comes to website design, one size doesn't fit all, and that's where our expertise shines as the top Web Designing Company in Delhi. We understand the diverse preferences and tastes of individuals, which also extend to businesses and their desired layouts. Our approach revolves around creating customized web designs that cater to the unique needs of each client. At WS Centre, we're equipped with a team of skilled web designers and cutting-edge technology, all geared towards crafting exceptional and innovative web structures.
Emphasis on Simplicity and Uniqueness
In the dynamic world of website design, simplicity and uniqueness go hand in hand, and we prioritize both aspects. Our philosophy is to strike a balance between delivering user-friendly and straightforward designs while infusing them with a distinct touch. As a leading Web Designing Company in Delhi, we understand that complex designs can often lead to user confusion, while generic designs fail to leave a lasting impression. Therefore, our team at WS Centre focuses on creating web designs that not only stand out but also offer intuitive navigation for a seamless user experience.
A Team of Proficient Web Musketeers
Behind every successful website design lies a dedicated team of experts, and at WS Centre, we take pride in our pool of proficient web musketeers. Our designers, developers, and creative minds work collaboratively to bring visions to life. With a deep understanding of the latest design trends and technological advancements, our team ensures that each web design is not only visually appealing but also technically sound. This synergy of skills and knowledge is what sets us apart as a premier Web Designing Company in Delhi.
Crafting Paramount and Innovative Web Structures
In the realm of website design, paramountcy and innovation are paramount to us. We believe in pushing the boundaries of creativity to deliver web designs that exceed expectations. Our approach is rooted in staying updated with industry trends, harnessing emerging technologies, and thinking outside the box. Whether it's an e-commerce platform, corporate website, or a personal portfolio, our team at WS Centre crafts web structures that not only meet the immediate goals of our clients but also have the flexibility to adapt to their future needs. As a result, we continue to be a trusted choice for those seeking exceptional Web Design Delhi services.
Тhe Process
what are the secret ingredients?
1. Finding out your
business needs.
2. Create design
concepts.
3. A pinch of design magic
for awesome results.
4. Forming a team for
development. Testing.
Success + Diary + Craves
Our Portfolio is a Testimony to Our Pledge Towards Excellence!