As a meticulous Website Development Company in Dubai, we feel that it is not just the search engine algorithms but the way people are using the search engines is driving continuous change in SEO trends.
The race to win the top rank in Google search engine result pages is never-ending. It's a vicious circle that takes us back to the one and only thing, how to optimize your websites and web pages that can fetch the desired spot in SERPs. Albeit the fight is difficult, but not impossible to win!
It is also true that SEO trends keep on evolving year after year with no signs of stopping in sight. The SEO strategies that might work a year before may not work today and the ones that we are implementing today may not work after 6 months. So, the experts of a leading Web Agency Dubai feel that it is important to stay up to date with the SEO trends that will make an impact in 2018.
Here we have listed out top 5 SEO trends for 2018.
Voice Searches: BY, 2023 it is to be believed that 50% of all searches will be voice searches. Though Apple's Siri's voice search is being used by a lot of Apple mobile users in 2017, the graph is expected to skyrocket in the coming year. A voice search is the search carried in the web world through voice gestures or voice commands, which eliminates the need of clicking or typing in search queries.
Google Quick Answer: What exactly it is? You might have seen Google highlighting the small snippets of the information displayed above the organic search results that are somewhat related to the query the users type in the search box. To access that piece of information you don't have to necessarily click on the click. If Google finds a piece of content on your website that is relevant to the search query than they might display it as a featured snippet.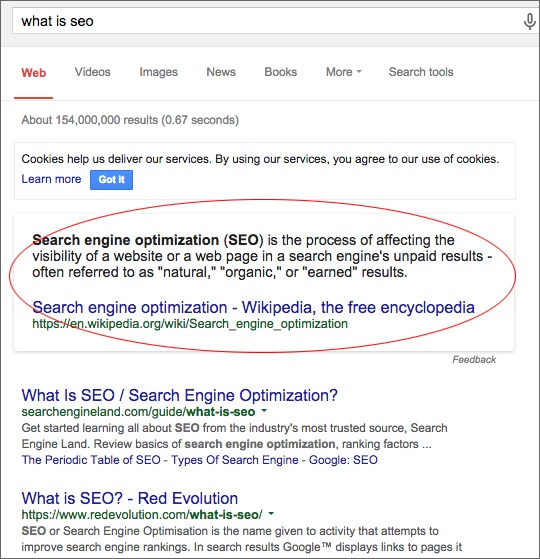 Latent-Semantic Indexing: Latent-Semantic Indexing for keyword diversity allows Google to understand the context/motive behind user search query, in other words, what is that users are trying to find and provide relevant information accordingly instead of providing information based on just the keywords.
AMP: Accelerated Mobile Pages have already made an appearance in 2017 and is now one of Google's most important search algorithms. It is basically a diet HTML that offers smoother and faster user experience to users. Web pages that are "ampified" load in less than one second and utilize very few data. So it's time to have your web pages "ampified" for not just better user experience but also search engine ranking.
Backlinks: It's never about the amount of internal and external links you have on your website, but the quality or relevance they are providing. That's why Google's have devised Penguin software to detect websites with artificial backlinks and penalize them according to for not following the quality guidelines in regards to backlinks. So, keeping your backlink profile smooth and natural is another important point to consider in 2018.